Read the review here: review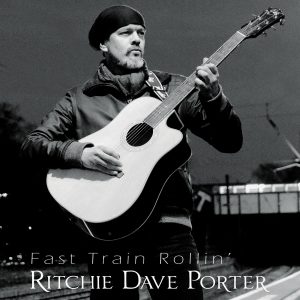 Ritchie Dave Porter is back with another slice of his unique serene calmness and emotional honesty, as he takes us on an autobiographical acoustic blues journey to the red button of the recording studio.
From calm comes clarity, the very quality that this album as a whole conveys so eloquently. It's a trump card for the Brummy bluesman, as 'Fast Train Rollin' makes a significant impact by drawing the listener in with his subtle playing, a warm weathered vocal style and the afore mentioned emotional honesty that reflects his hard earned right to be here in the first place.
On 'Blues To The End' he stockpiles several blues cliché's before delivering an autobiographical sting in the tail: "I've had the Big C, I'll play blues to the end."
He further looks mortality in the face with an unwavering eye, on 'Just Give Me More Days', as he draws on all the subtle elements of his musical canvas to convey so much in a stripped down manner.
He pens autobiographical songs, crafts enchanting instrumentals and explores different moods and feels on an album with the contrasting qualities of sparse arrangements and inspired playing.
In between the intricately woven guitar lines, lyrical imagery and evocative phrasing, there's also a consistent melodic sweep from the opening 'New Beginnings' to the closing 'Spirits Of The Wood'.
The two tracks emphasize the beginning and end of a musical journey. You could also argue that Porter's own recording career thus far has mirrored such a linear journey, starting with 1989's retrospective 'Rocking The Blues'.
He disappeared from view until the mission statement of his 2015's 'Acoustic Blues' CD/EP. Then in 2016, he cast himself as a 'Working Class Blues Man', while the big picture 'End Of The Line 'wasn't so much a comment on his own career, as a definitive exposition of his style, a tautly worked balance between deep emotion, clarity of vocals – both phrasing and diction – and meaning.
Everything is neatly glued together by an array of glistening notes and lingering tones as the songs soak up lyrical meaning.
All of this brings us nicely to 'Fast Train Rollin', on which he further hones his simple, but effective style with narratives delivered within sparse arrangements, embroidered by some beautiful guitar playing.
In between the melodic ebb and flow, there's some evocative guitar playing, as on 'The Girl With Red Hair', and the intense playing on 'Sirocco', on which he evokes the swirling wind of The Sahara in a dance like frenzy, before a Peter Green style drop-down.
Then there's the fast tempo, hot picking, and highly charged playing of the title track, which suggests he's in the groove, all revved up and ready to go.
He gets ironic on 'Loner Blues', a song with a lyrical shift that leads him to the conclusion that being alone might not be such a bad thing after all. But rather than develop his theme he just lets guitar do his talking for him. And it is this essence of simplicity that brings him rich reward.
He digs deep for the rumination of his own mortality on 'Just Give Me More Days', as he cleverly adds some sinuous Spanish guitar on the end of the exclamatory line: 'I'm slipping away, just give me more days.'
His lightness of touch and an uplifting melodic feel also makes the closing 'Spirits of the Wood' a real joy, on the perfect instrumental book-end to a lovingly crafted album.
Michael Tingle's unexpected drum-roll punctuates a sparse arrangement that imperceptibly slips into a mesmerising solo, which conjures up the song's title.
Along with 'Sirocco', it's another excellent example of the music evoking thematic imagery, as the Brummy's delicate brushstrokes conveys so much on a beguiling album.
On first listening 'Fast Train Rollin' doesn't quite have the same coherent structure of its predecessors, but repeated listens reveals some enveloping melodies, catchy licks and salient lyrics that glow like embers in the dark.
In an age of ridiculous hype, production overkill and formulaic music, 'Fast Train Rollin' is a delightful return to the basics of heartfelt songs, impassioned singing and great acoustic guitar playing. ****
Review by Pete Feenstra