Ritchie
I enjoyed writing and recording this "Wickerman" folk song and I like the way the acoustic blues licks gelled well with the folk energy of the song.
The song "Wickerman" was inspired my attendance at Witchfest in Oxfordshire which was a Children Of Artemis event.
I myself am a Usui Shiki Ryoho Reiki Master Teacher and even though Japanese Reiki is my own spiritual path and practice (what with the meditations and energetic cleansing exercises )I did find the Artemis event full of wonderful energy and people and attended a Candle and Talisman and Wand making workshop which I found really interesting.
Im not a Witch but respect and have a fascination with all occult arts and they are like different fingers of the same hand in my opinion.
Enjoy the "Wickerman" and yeah,the original 70s classic is a real gem of a pagan movie.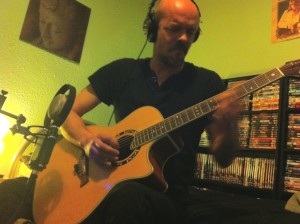 Mr. Secret
The final track of the album has been laid down and it's called 'The Wicker Man'. Yes it is true the song is based on Ritchies recent exploits in Wicca, Witchcraft and the occult, a spot of traditional British folk roots religion never hurt anyone. I think you'll like this, nice and chilled as only Richie knows how.
The Wicker Man

The Wicker Man video on youtube

And here is a snippet of the recording of the acoustic solo in action. Good as this solo is Ritchie produced even greater takes for the actual finished version.